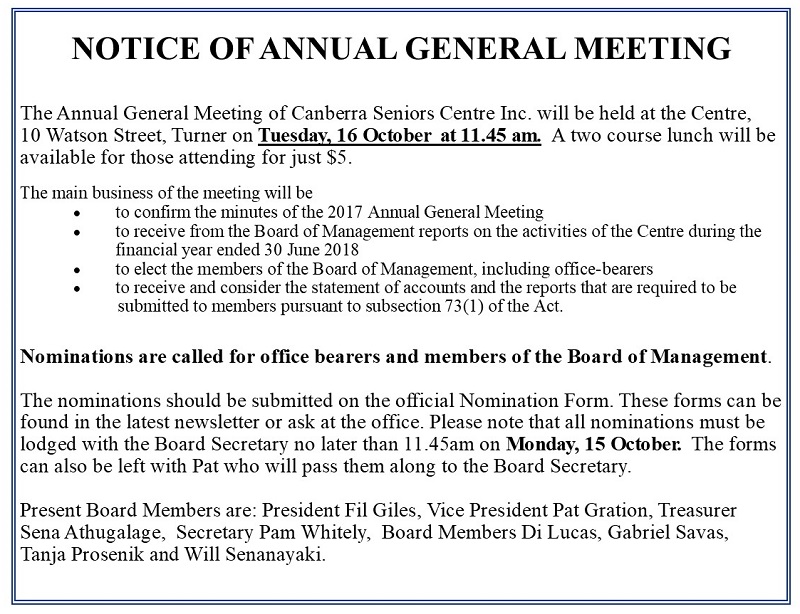 ANNUAL MEMBERSHIP
Thank you to all those who have renewed their CSC Membership for 2018–2019. However, our records show that there are still quite a lot of people who have not yet paid their dues. For those who have still to do so, remember that the fee this year is $15. Please see Pat who will be happy to receive your money and provide you with a receipt.
COMPUTER CLASSES
These resumed on 4 and 6 September. There are vacancies in the Thursday morning class so If you would like to join in, please give your name to Pat and let her know how familiar you are with computer use so that we can plan to meet your needs.
BIRTHDAY LUNCH
The next Birthday Lunch will be held on Thursday 11 October. On the menu will be Roast Lamb with Roast Vegetables, Gravy and Mint Sauce followed by Pavlova.
The cost is $5 for members with birthdays in October and $15 for partners and friends. RSVP by 5 October on 6248 9509 or cseniors@bigpond.com .
ZUMBA GOLD
The Zumba Gold class resumed on Monday 3 September coinciding with the start of Spring. So, come along to the club at 10.00am on Mondays to warm up with bright music and exercises to get your blood flowing.
OUR NEXT FETE
Our second fete for the year will be held on Saturday 17 November. As you all know, our biggest fundraisers are our fetes and to make the best of them we need publicity. We know that our members often come up with great ideas. If you have any on how we might best get our messages about our fetes (and all the other wonderful things we do at the club) to the wider community, please jot your ideas down on paper and give them to Pat. If you would like to discuss publicity with Sandra (our publicity officer), she is in the club around midday most days. Call Pat and she will set up a meeting with her for you.
If spring-cleaning is on your to-do list, please keep the club in mind and bring in anything that is still in good condition and can be included in our goods for sale.
MAHJONG
A number of members have expressed an interest in starting another Mahjong group. If you are interested in joining this group please let Pat know on 6248 9509.
COMMUNITY PARTNERS OF CANBERRA SENIORS CENTRE …