ANNUAL GENERAL MEETING
The Annual General Meeting of the Canberra Seniors Centre will be held on Tuesday 27 September at 11.45 am. A two-course lunch for $5 will be available for those attending the meeting.
Please consider nominating for a position on the Board of Management. We need active members who are keen to be involved in ensuring the future of the Centre. Business skillls in public relations and marketing would be most welcome. For further details please see p.4 of the August issue of the Clarion, also, talk to David who will explain what being on the Board entails.
ONE OF OUR MEMBERS IS 100 YEARS OLD!!!
A very special event was held at the Canberra Seniors Centre on 1 July to celebrate the 100th birthday of one of our members, Rena McCauley.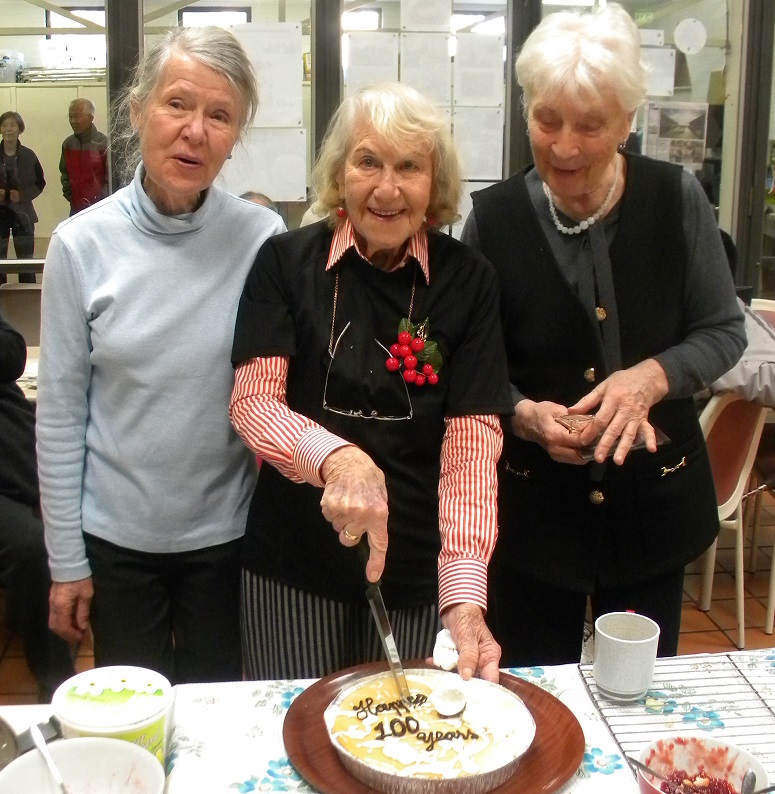 A big crowd gathered to share this wonderful occasion. Russian songs were sung and Rena joined in the dancing too, showing that keeping up your daily exercise pays dividends as you age.

YOGA for SENIORS
Come along to our new weekly yoga class on Wednesdays run by Nancy Williams, the ACT co-ordinator of Yoga Australia. The one-hour class begins at 10.00 am and costs $10. Remember, no equipment is required – just come in comfortable clothes. Seniors Yoga is suitable for all, whatever your age or fitness level. It is said to help with stress management, sleeplessness, lack of balance and falls prevention.
BIRTHDAY LUNCH
Our next birthday lunch will be held on Thursday 8 September. Roast pork and vegetables are on the menu followed by Apple Strudel with cream.
Please RSVP by 2 September.
2016–2017 MEMBERSHIPS
Have you renewed your membership for this financial year? If not, please do so the next time you come into the Centre. The cost is the same as last year – only $10. Remember that if you attend the Centre, no matter which activity you are involved in, you must be a current member.
CELEBRATING OUR 50TH BIRTHDAY
Please make sure you have saved the date in your diary so that you can join us for this special occasion on Friday, 11 November. The format of the celebration has not been finalised but we will let you know as it takes shape.
WELFARE OFFICER

Pat Gration, besides being our Centre Manager, is employed by the Australian Government as a Welfare Officer. Her official title is CEO, My Aged Care. She has the up-to-date information about aged care services that are available in our local area which can help you to live independently. She is able to advise you, provide confidential counselling and advocate on your behalf so please contact her if you have any questions about this federal government initiative.
COMMUNITY PARTNERS OF CANBERRA SENIORS CENTRE …